So I managed to catch the office cold… the one that everyone has been suffering and seems to have left each and every one of us without energy for the holidays. I missed my party, and my husband's and well, such is life, eh? But as I still have the "real " Christmas to come, I could not stop myself from making another one of these…
I used scraps of materials I had at home (I have photograph them to give you an idea of the mix), the same black ribbon i used last time and similarly, fasteners. I also made 4 yoyos which i decorated with a garnet type of bead.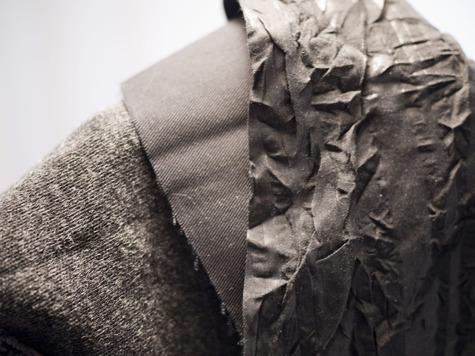 I firstly made a shape I liked in tissue paper. Then cut the same shape in jersey fabric… twice. Sewed around most of it, turned inside out and finished the "base piece". The ribbon and the fasteners were measured, cut and fixed to the base.
I then cut around 40 to 50 "leafs" in fabrics of different textures. The shape, bay leaf like. Once I had them all cut, I begun to group them in 3 s of 4s, sewing them together… and finally, arranged them along the base until I was happy with the shape. then I sewed them, starting from the "top", always making sure that each layer covered the "steams" of the previous one…. similarly to my Custom T-shirt project.
I made the 4 yoyos I sewed the beads into each one and laid them over the template's vertex (to call it something… the pointy-er area that was to be placed behind my ear) covering the bottom of the bottom leafs. Finally I sewed them to one another and then to the base.